TRP now have 4 affordable serious road and 'Cross brake systems for you to choose from.
There's the 2 cable only systems the 'Spyre' and the 'Spyre SLC'. Both of these brakes are unique in offering a dual piston approach and a barrel adjuster on the caliper itself instead of relying on in-line adjusters (although you can adjust these from the riding posistion).
The advantages to the dual piston system will be obvious to anyone running systems with one static pad; this is what TRP have to say: "No frustration at completely adjusting the whole caliper, only to have it continue to drag the fixed side, adding wear!". The Spyre weighs in at 154g and the SLC 146g per caliper but you then have the disc and cable to factor in. The cost for the 'Spyre' is $89 and the SLC is $109 with the Spyre available now and the SLC on it's way.
TRP also have another unique offering in their HY/RD system [Pronounced "High Road"…]. This one is a cable system that operates a hydraulic master cyclinder mounted at the caliper, so you can have all the advantages of hydraulic breaking; twin pistons, automatic pad wear adjustment and retain your preferred shifters. Personally on a road bike i'd be worried by the heat boiling the brakes with the caliper and reservoir being one unit but in 'Cross this is not an issue. Weight is a respectable 195g per caliper. There is a warning from TRP about the use of inline barrel adjusters with these brakes so make sure you RTFM and do it properly. The HY/Rd is $149 and available now.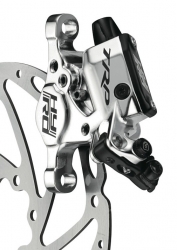 TRP have also got a fully hydraulic system called the 'Hylex' using their own in house lever for those single speed riders that want to continue running drop bars. The system is a fully open hydraulic system and uses the same caliper as the Parabox (which is still far too expensive IMHO at $450). The Hylex is $149.
Tektro have realy upped their game as far as 'Cross / Road brake offerings and tbh i think the dual piston self adjusting Spyre is a really interesting product especially for those really muddy races where some riders were wearing out BB7 and BB5 pads in 1 lap.
If you're gonna have discs they might as well be better than canti's right kids?! The TRP products are really making disc brakes for 'all' conditions a serious option. Still not convinced for Road 'race' bikes, commuting yes, but racing …. ?